about
You don't read The Drum. You listen to it.
The Drum Literary Magazine publishes short fiction, essays, poetry, novel excerpts, and interviews exclusively in audio form. The Drum is a non-profit 501(c) 3 organization, and your source for Literature Out Loud.
Listen Online or Download
Each of The Drum's quarterly issues brings you new literature you can weave into your daily life. Listen online or download the audio to listen to on your mp3 player and/or to share with up to five friends. Use our tags to choose a story as long as a dog-walk, or an essay that will last you for your ride to work. You can send a friend a humor piece to lighten her day, or you can pass on a serious piece to spark discussion.
If you're visiting The Drum on an iPhone or iPod, you can listen to audio simply by tapping the play button for a particular file. To store an audio file on your iPod or iPhone, you'll need to download the audio to your computer before importing it into your iTunes library.
For more information about The Drum, go to our FAQ.
Our Story Badges
Use our handy badge system to find a story that's just right for you--or to send to a friend.



Our genres:

Short Fiction

Poetry

Novel Excerpt

Essay



Our Themes:

Crisis (identity or otherwise)

Relationships

Family

Comedy



SMALL: under 10 minutes

MEDIUM: under 20 minutes

LARGE: under 30 minutes

EXTRA LARGE: the long stuff, max. 40 minutes
Henriette Lazaridis, Editor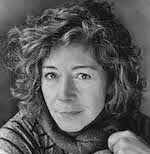 Henriette Lazaridis' debut novel THE CLOVER HOUSE will be published on April 2, 2013 by Ballantine Books. Her shorter work has appeared in Salamander, the New England Review, Middlebury Magazine, The New York Times online, The Millions, Rowing News, and Narrative Magazine. She was a founding member of the writing blog beyondthemargins.com. She spent nearly two decades in academia, teaching at Harvard for ten years after earning an M.Phil. on a Rhodes scholarship as well as a Ph.D. One of her favorite things about being an academic was getting to read papers aloud at scholarly conferences--a sure sign that she would someday start a magazine like The Drum. Being bi-lingual in Greek and English, Henriette is fascinated by the sound of words, and still isn't sure how to pronounce "dispute" or why you don't say the p in psychology.
KIRUN KAPUR, POETRY EDITOR
Kirun Kapur grew up in Hawaii and has since lived and worked in North America and South Asia. Her work has appeared in AGNI, Poetry International, FIELD, The Christian Science Monitor and many other journals and news outlets. She is the winner of the 2012 Arts & Letters/Rumi Prize for Poetry and the 2013 Antivenom prize. Her first book, Visiting Indira Gandhi's Palmist, will be published by Elixir Press in 2015. Kirun is co-director of the popular, Massachusetts-based arts program, The Tannery Series, and is an ardent devotee of bacon, bourbon and road trips. You can find her at www.kirunkapur.com.


READERS
The Drum is indebted to the work of its readers, newly on board for 2018.



Fiction Readers

Lara McLeod

Emily Franklin

Maria Pinto



Essay Readers

Joanne Barker

Carol Newman Cronin



If you're interested in applying to be a reader for The Drum, use our contact form to get in touch.
Thanks for your interest in advertising with The Drum Literary Magazine.
Podcast/Website Combo Ads: Each $50 ad gets your organization presented as a sponsor at the end of one of our audio pieces, where it will remain permanently wherever The Drum is listened to--and that includes our growing podcast audience. We will also place a 180x180 banner ad at the bottom of each page of our website for three months. Your $50 ad reaches those interested in Boston's Literary District, of which The Drum is an Executive Partner, and, most importantly, it supports us in our mission to pay creators for their work, covering the cost of one story. Email us at theeditors [at] drumlitmag [dot] [com] and use Buying a Banner Ad in the subject of your email.


Terms of Use
Welcome to the website (the "Site") of The Drum , an online literary magazine for your ears, publishing short fiction, essays, and interviews in audio form. The Site is made available to you by The Drum Literary Magazine, Inc. ("DLM,""we," or "us"). Please read these terms of use carefully before using the Site. If you continue to browse and use the Site, whether or not you register or become a subscriber, you are agreeing to comply with and be bound by these terms of use. If you do not agree with any of these terms of use, please do not use our Site. You understand and agree that we may change these terms of use at any time without prior notice. You may read a current copy of the terms of use at any time by selecting the "Terms of Use" link on the Site. The revised terms of use become effective at the time of posting. Any use of the Site after that date will constitute your acceptance of the revised terms of use. We reserve the right to suspend or terminate the registration or subscription of any user who does not abide by these terms of use.
1. Issues of The Drum on the Site
Each issue of The Drum available on the Site will contain links to audio recordings (individually, an "Audio," and collectively, the "Audios"). As permitted by these terms of use, you may listen to the Audios online or download them. Most, but not all, of the Audios will be available without charge, and access to some Audios is restricted to subscribers. If you prefer not to become a subscriber, you will be able to listen to a selection of the Audios in each issue, but access to all the Audios will require a subscription.
DLM is not responsible for the content of any of the Audios, which reflect the views of their authors.
2. Subscribing to The Drum and Posting on Forums
All users of the Site will be able to access some Audios from each issue of The Drum without charge, but in order to access the Audios identified as Premium, you'll need to become a subscriber. In order to become a subscriber to The Drum (a "Subscriber"), click on the "Subscribe" button located on the Home Page and complete the information requested. All subscribers must be at least 13 years of age.
A Subscription allows access to all Audios, including those identified as Premium, as well as the archives, and requires payment of a subscription fee, which we may change at any time. A Subscription provides access to The Drum's full content for twelve months beginning at the time of payment and ending twelve months after that time. Once you have subscribed, you'll create your own Subscriber user name and password. You may terminate your subscription at any time by contacting us. We may terminate your subscription at any time, with or without cause, without any liability to you.
Subscribers can post on any public forums using their Subscriber user name and password. If you aren't a Subscriber but want to post, you can register to create and use a user name and password. There is no charge to register in order to be able to post. If you'd like to register, click on the button located on the Home Page and complete the information requested. You must be at least 13 years of age in order to register.
You are responsible for all activity conducted on or through your registration or subscription, and you may not share your registration or subscription with anyone else. By registering or subscribing, you agree that you (i) will update any information you provide in the process of registering or subscribing and (ii) will not take any actions designed to compromise the performance or integrity of the Site or interfere with its proper working, or attempt to gain unauthorized access to any aspect of the Site.
3. Proprietary Rights and Limited License
The Site and each issue of The Drum contain material that is owned or licensed by DLM and is protected by United States and foreign intellectual property laws, including without limitation copyright. All these intellectual property rights are reserved, and your use of the Site and The Drum gives you no rights in or to the content.
You may view, download Audios only as permitted by these terms of use, and print pages from the Site, in each case for your own personal, non-commercial use, subject to the restrictions set out below and elsewhere in these terms of use. You may download Audios on your own personal devices, and you may share the Audios you download with up to five individuals for their own personal, non-commercial use, provided that each individual with whom you share an Audio agrees not to further copy or distribute the Audio. The license to share Audios does not constitute a grant or waiver of any rights of DLM and the author of the recorded work in the Audio. You must retain all copyright and other proprietary notices contained in the original content on any copy you make. You may not reproduce, upload, post, transmit, modify, sell, or download or distribute (except as provided above) the contents of the Site and The Drum or information on sites accessible through links on the Site, provided that you may modify any content that you create and post.
This limited license will automatically terminate if you violate any of these restrictions and may be terminated by us at any time. Upon the termination of this license, you must destroy any downloaded materials in your possession, whether in electronic or printed format.
All trademarks, logos, service marks, and trade names displayed on the Site or on content available through the Site that are not owned by DLM are the property of their respective owners.
4. Materials You Create and Public Forums
The Site may have sections such as blogs, bulletin and message boards, or chat areas that provide you the opportunity to exchange ideas and information, such as comments on the works featured in The Drum. While using the Site, you agree that you will not upload, post, transmit, distribute, or otherwise publish through the Site or any service or feature made available on or through the Site, any materials that may be illegal or unlawful, may infringe any third party's legal rights, or are capable of giving rise to legal action whether against you or us or a third party (in each case under any applicable law), nor may you advertise or solicit on the Site. By posting or submitting materials to the Site, you represent that you have all necessary rights in and to such materials; that such materials will not infringe on any personal or proprietary rights of any third parties; that such materials will not contain defamatory, indecent, or otherwise unlawful content; and that such materials will not contain any viruses or other destructive features.
We are not responsible for any materials posted by others on our Site, which may not reflect the views and opinions of DLM. Although we have no obligation to screen, edit, or review posts, we reserve the right to monitor posts and remove any that we consider, in our sole discretion, to be in breach of these terms of use, and to deny access to anyone who violates these terms of use. DLMEXPRESSLY DISCLAIMS ANY RESPONSIBILITY OR LIABILITY FOR ANY MATERIAL COMMUNICATED BY THIRD PARTIES THROUGH THE SITE OR FOR ANY CLAIMS, DAMAGES, OR LOSSES RESULTING FROM THE USE OF THE SITE.
While we have no ownership rights in any materials you create and post or submit to the Site, by doing so, you are granting DLM a perpetual, non-exclusive, royalty-free, unrestricted, worldwide license to use, display, sublicense, adapt, transmit, incorporate in other works, and copy such materials on or via our Site and any other form, media, or technology now known or later developed.
5. Links to Other Sites
Links to, or embedded images from, other web sites may appear from time to time on the Site, to offer additional resources on related subjects, but we have not reviewed all of these linked sites or embedded images and are not responsible for the contents or accuracy of any such linked site or image. These links and images are provided as a convenience to you and do not imply our endorsement of the site. You should take precautions when downloading files from all web sites to protect your computer from viruses and other destructive programs. If you decide to access any linked sites, you do so at your own risk.
6. Personal Information
In the course of your use of the Site and/or the services made available on or through the Site, you may be asked to provide certain personal information to us. Our information collection and use policies with respect to the privacy of personal information that you provide are set forth in our Privacy Policy, which is incorporated into these terms of use. You acknowledge and agree that you are solely responsible for the accuracy and content of all information that you provide to us. If we need to contact you, we may do so using your email address.
Please be aware that personal information—such as your name or email address—that you voluntarily disclose on services such as blogs, bulletin and message boards, or in chat areas that are accessible to other users could be collected and disclosed by others. DLM cannot take any responsibility for such collection or disclosure.
7. Disclaimer and Limitation of Liability
DLM MAKES NO REPRESENTATIONS OR WARRANTIES, EXPRESS OR IMPLIED, WITH RESPECT TO THE SITE OR ITS CONTENTS (INCLUDING WITHOUT LIMITATION THE CONTENTS OF ANY AUDIOS OR OTHER MATERIAL CREATED OR COMMUNICATED BY THIRD PARTIES), WHICH ARE PROVIDED ON AN "AS IS" AND "AS AVAILABLE" BASIS. TO THE FULLEST EXTENT PERMISSIBLE PURSUANT TO APPLICABLE LAW, DLM DISCLAIMS ALL WARRANTIES, EXPRESSED OR IMPLIED, AND HEREBY DISCLAIMS AND NEGATES ALL OTHER WARRANTIES, INCLUDING, WITHOUT LIMITATION, IMPLIED WARRANTIES OF TITLE, NON-INFRINGEMENT, MERCHANTABILITY, AND FITNESS FOR A PARTICULAR PURPOSE WITH RESPECT TO THE SITE. FURTHER, DLM DOES NOT WARRANT OR MAKE ANY REPRESENTATIONS CONCERNING THE ACCURACY, LIKELY RESULTS, COMPLETENESS, CURRENCY, OR RELIABILITY OF THE MATERIALS ON THE SITE OR ON ANY SITES LINKED TO THE SITE, OR THAT THE SERVICES PROVIDED BY THE SITE WILL BE UNINTERRUPTED AND ERROR-FREE; THAT DEFECTS WILL BE CORRECTED; OR THAT THE SITE OR THE SERVER THAT MAKES IT AVAILABLE ARE FREE FROM VIRUSES, WORMS, OR OTHER HARMFUL COMPONENTS.
IN NO EVENT, INCLUDING BUT NOT LIMITED TO NEGLIGENCE, SHALL DLM, OR ANY OF ITS DIRECTORS, OFFICERS, EMPLOYEES, AGENTS OR CONTENT OR SERVICE PROVIDERS, OR ANYONE ELSE WHO HAS BEEN INVOLVED IN THE CREATION, PRODUCTION, OR DELIVERY OF THE SITE, BE LIABLE FOR ANY CLAIMS, LIABILITIES, LOSSES, AND EXPENSES OF ANY KIND INCLUDING, WITHOUT LIMITATION, ANY DIRECT, INDIRECT, INCIDENTAL, COMPENSATORY, SPECIAL, CONSEQUENTIAL, EXEMPLARY, OR PUNITIVE DAMAGES, SUCH AS, BUT NOT LIMITED TO, LOSS OF ANTICIPATED PROFITS, BENEFITS, USE, OR DATA, OR DUE TO BUSINESS INTERRUPTION, ARISING FROM, OR DIRECTLY OR INDIRECTLY RELATED TO,THE USE OR INABILITY TO USE THE SITE OR THE CONTENT, MATERIALS, AND FUNCTIONS RELATED TO IT, EVEN IF DLM OR AN AUTHORIZED REPRESENTATIVE HAS BEEN NOTIFIED OF THE POSSIBILITY OF SUCH DAMAGES OR LOSSES. YOU ASSUME ALL RESPONSIBILITY FOR ESTABLISHING SUCH PROCEDURES FOR DATA BACK UP AND VIRUS PROTECTION AS YOU DEEM APPROPRIATE. IN NO EVENT SHALL DLM OR THE OTHER INDIVIDUALS AND ENTITIES IDENTIFIED ABOVE BE LIABLE FOR OR IN CONNECTION WITH ANY CONTENT POSTED, TRANSMITTED, EXCHANGED, OR RECEIVED BY OR ON BEHALF OF ANY USER OR OTHER PERSON ON OR THROUGH THE SITE. IN NO EVENT WILL DLM'S TOTAL LIABILITY TO YOU FOR ALL DAMAGES, LOSSES, AND CAUSES OF ACTION (WHETHER IN CONTRACT, TORT (INCLUDING, BUT NOT LIMITED TO, NEGLIGENCE), OR OTHERWISE) ARISING FROM THESE TERMS OF USE OR YOUR USE OF THE SITE EXCEED, IN THE AGGREGATE, THE GREATER OF THE AMOUNT PAID BY YOU, IF ANY, FOR ACCESSING THE SITE.
Some jurisdictions do not allow exclusion of implied warranties, orthe limitation or exclusion of liability for incidental or consequential damages, so some of the above limitations may not apply to you. Any action on any claim against DLM must be brought within one year following the date the claim first accrued, or it will be deemed waived.
8. Indemnification
You agree to defend, indemnify and hold DLM and our affiliates, directors, officers, employees, and agents harmless from any and all claims, liabilities, costs, and expenses, including attorneys' fees, arising in any way from your use of the Site, your placement or transmission of any message, content, information, software, or other materials on or through the Site, or your breach or violation of the law or of these terms of use. We reserve the right to assume the exclusive defense and control of any matter otherwise subject to indemnification by you, and in such case, you agree to cooperate with our defense of such claim. You will not in any event settle any claim without our prior written consent.
9. Compliance with Local Laws.
The Site is controlled and operated by DLM in the United States and is intended for use within the United States. DLM makes no representation that materials on the Site are appropriate or available for use in other locations. Those who choose to access the Site from other locations do so on their own initiative and are responsible for compliance with local laws.
10. Miscellaneous
Any claim relating to the Site shall be governed by the laws of the Commonwealth of Massachusetts without regard to its conflict of law provisions. You agree that any action at law or in equity arising out of or relating to these terms of use shall be filed only in the state or federal courts located in Massachusetts. You further consent and submit to the personal jurisdiction of these courts for the purposes of litigating any such action. If any provision of these terms of use is deemed unlawful, void or unenforceable, then such provision shall be severed from the terms of use and the remainder of the terms of use shall remain in effect.
The effective date of these terms of use is May 1, 2010.
Digital Millennium Copyright Act Compliance
If you believe that any materials posted on the Site by others infringe on the copyrights of another party, please contact us. We comply with the provisions of the Digital Millennium Copyright Act applicable to Internet service providers. Please send a written notice describing the infringement to our designated agent at the following address:
Designated Agent
The Drum Literary Magazine, Inc.
P.O. Box 380959
Cambridge, MA 02238
E-mail: theeditors@drumlitmag.com
Your notice must include the following:
A physical or electronic signature of the owner, or a person authorized to act on behalf of the owner, of an exclusive right that is allegedly being infringed;
Identification of the copyrighted work claimed to have been infringed or, if the claim involves multiple works at a single online site, a representative list of such works at the site;
Identification of the allegedly infringing material on the Site, and information reasonably sufficient to permit us to locate such material on the Site;
Information reasonably sufficient to permit us to contact the complaining party, such as an address, telephone number, or, if available, an email address;
A statement that the complaining party has a good faith belief that use of the materials in the manner complained of is not authorized by the copyright owner, its agent, or the law; and
A statement that the information in the notice is accurate and, under penalty of perjury, that the complaining party is authorized to act on behalf of the owner of the exclusive right that is allegedly infringed.
Privacy Policy
Thank you for visiting the website (the "Site") of The Drum, an online literary magazinefeaturing audio recordings of exciting new works (the "Audios") made available to you by The Drum Literary Magazine, Inc. ("DLM"). DLM is committed to protecting your privacy. We've developed this Privacy Policy in order for you to understand how we collect, use, communicate, disclose, and make use of personal information that you provide to us on this Site. By using the Site or by registering or subscribing to The Drum, and voluntarily providing personal information in connection with your registration, subscription, or use, you are consenting to our use of the information you provide as described in this Privacy Policy.
The Information We Collect
A subscription, which requires a fee, is required in order to access some of the Audios available on the Site. As part of the subscription process, you will be asked to provide an email address, your full name, a username, and a password. You may choose to add other information to your user profile. You will also be asked for credit card or billing information.
In order to post comments on the public forums, you will need to register, and will be asked to provide an email address, your full name, a username, and a password. You may choose to add other information to your user profile.
As the Site is not intended for use by those under the age of 13, you will also be asked to provide your birthdate, whether you subscribe or register.
We may collect certain non-personally identifiable information when you visit the Site, such as the type of browser and operating system you are using, the IP address you are using to connect to the Site, and the name of your Internet service provider. This type of information helps us ensure consistent delivery of the Site and improve our services.
Cookies
Like most major websites, we may use "cookies" to store information during your use of our Site. Cookies are small pieces of code that are stored in a designated file on your computer. They do not provide us with any personally identifiable information and cannot be used to run programs or deliver viruses to your computer.
We use cookies as a convenient feature to save you time, and to help us both understand how our Site is used and improve the Site. For example, we may use cookies to personalize your experience at our web pages or recall your specific information on subsequent visits (for example, to recognize you by name when you return to the Site). If you would prefer not to receive any cookies, most browsers can be set to refuse cookies or to alert you when one is being sent. It is possible, however, that some portions of this Site may not function properly if the cookies are disabled.
Updating or Removing Your Personal Information
You may update or remove from our database any information you provide us at any time by accessing your account settings. However, removing some types of information, such as your email address, may require cancelling your subscription. Please contact us if you would like to take this step.
How We Use Your Personal Information
We will use the personal information you provide in connection with your use of the Site. We may also use it (in a way that is not personally identifiable) to improve our service and add new features. If we need to contact you, we may do so using your email address.
Please be aware that personal information—such as your name or email address—that you voluntarily disclose on services such as blogs, bulletin or message boards, or in chat areas that are accessible to other users could be collected and disclosed by others. DLM cannot take any responsibility for such collection or disclosure.
How We Share Your Personal Information
DLM will not sell to or share with any other party the information you provide to us except (a) if it is for the purpose(s) you provided it; (b) with your consent; (c) as may be required by law or as we think necessary to protect our company or others from injury; or (d) with vendors who provide services to us, such as hosting services, tech support, database managers, and credit card processors.
Links to Other Sites
This Privacy Policy applies only to our Site. Our Site may provide links to—or embed media from—other websites that are not under our control. These other sites do not follow our privacy policies and procedures, and may place their own cookies on your computer. You should review the privacy policies on those sites to understand how they will protect any personal information you provide.
Security of the Information You Provide
We believe we have taken reasonable steps to protect the information you provide us from loss or theft, unauthorized access, disclosure, copying, use, or modification.
International Users
If you are visiting our Site from a location outside of the United States, your connection will be through and to servers located in the United States and all information you provide will be processed and securely maintained in our web servers and internal systems located within the United States. By using this Site, you authorize the export of personal information to the USA and its storage and use as specified above when you provide such information to us. This policy and our legal obligations are subject to the laws of the Commonwealth of Massachusetts and the USA, regardless of the location of any user. Any claims or complaints must be filed in the USA in the Commonwealth of Massachusetts.
Changes to this Policy
This Privacy Policy is effective as of May 1, 2010. Since our policy may change periodically, without notice, please check back here from time to time to review our current Privacy Policy. Your use of the Site after the posting of any changes to this Privacy Policy means you accept such changes.
How to Contact Us
If you have any questions or concerns about this Privacy Policy, need to contact us about the information you've provided, or want to terminate your registration or subscription, you may email us or write to the following address:
P.O. Box 380959
Cambridge, MA 02238