AIMEE LOISELLE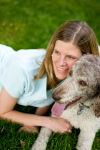 Aimee Loiselle often uses green tea as an excuse to break from writing. She has stories forthcoming in
Steam Ticket
and the
American Fiction
anthology. Stories with her name have also appeared in
Blueline
,
Natural Bridge
,
Square Lake
, and
Out of Line
. Her novel manuscript was shortlisted in the Faulkner-Wisdom Competition, and she likes pizza with artichokes. Learn more at
www.aimeeloiselle.com
.
Her short story "Three Women Wishing For A Boy" appeared in the May 2010 issue of The Drum.
Audio Stories by AIMEE LOISELLE